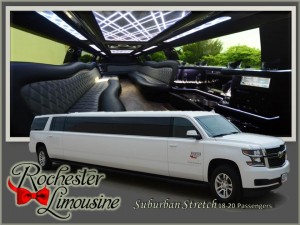 It's nearly summertime, and the weather is heating up. The winter coats and shovels are being put away for a few months and – best of all – summer events are popping up all around the Metro Detroit area. Your schedule is starting to fill up with all of the events that you have planned for your summer, and you want to make them even more exciting than they were already going to be. If you really want to make your next event that much more special, then consider hiring a Troy limo rental!
No matter the event, a Troy limo rental makes everything that much more fun.
Luxurious
For a fancy date night or a wedding party, everyone involved wants to feel very glamorous and well put together. Everyone will be wearing their best outfits and showing off just how great they can look. With the clothes setting the tone, the transportation should be doing its part to help show everyone off as well. A stretch limousine from Metro Detroit Limos is the perfect way to showcase just how good everyone looks. The shiny exterior and stunning looks of the limousine are sure to turn heads as it cruises through downtown.
Efficient
If you are in business and need to be at a corporate event by a specific time, a Troy limo rental is a great option. Having a limousine take care of the driving means not having to drive there yourself or take a taxi. Driving yourself means you could get lost – should you be in a different city than you are normally accustomed to. Taking a taxi to an event almost certainly means you'll be paying more for the trip than you bargained for. A Troy limorental will get you to the event on time and will wait for you once the event is over to take you home or to your hotel.
Safe
With wedding season comes bachelor and bachelorette party season, as well as graduation season, and general "let's get out of the house" season. With these seasons usually comes a bit of drinking and kicking back with good friends. If you and your friends go out for any event, you'll want to make sure that none of your friends decides to drive. Consider a Troy limo rental instead. Our drivers will make sure you get home safely and that no one gets a DUI. It's better to fully enjoy the event and have someone drive you home afterwards anyway.
No matter the event you are taking part in this summer, make sure to consider hiring a Troy Limo rental for your driving needs. We offer many different services and sizes of limousines so we will be able to accommodate whatever your needs may be. Interested in booking a Metro Detroit Limo? Contact us today!