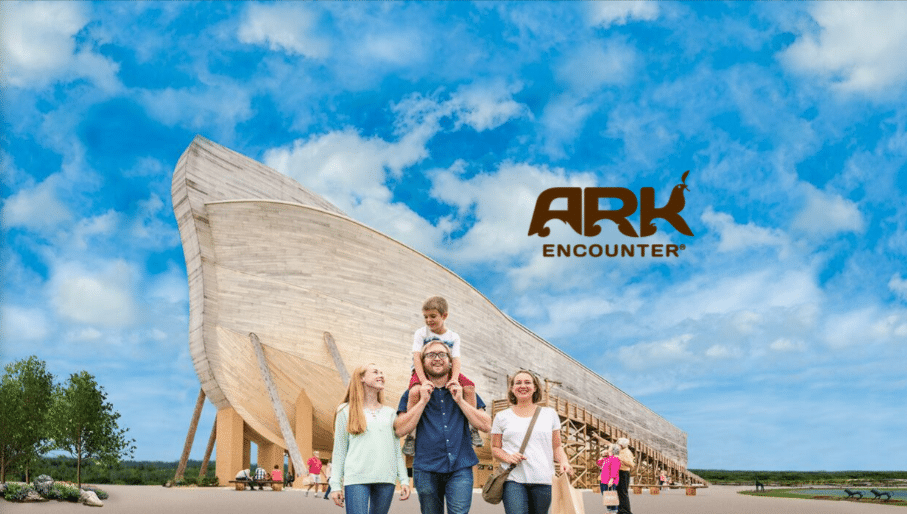 One of the most famous biblical stories of all time is that of Noah and his ark. Reading about it though, and seeing the one and only Ark for yourself, are two very different things. That's why, if you've been looking for a fun place to take your group, we encourage you to take a motorcoach trip to experience the Ark Encounter!
What Is The Ark Encounter?
When it comes to ideal adventures, the Ark Encounter really puts the awe in authenticity. Offering a full-size lifelike replica of the one and only biblical ark, an "engineering marvel" even by our modern standards. It measures in at "510 feet long, 85 feet wide, and 51 feet high," making it the exact dimensions as the original ark Noah was personally directed by God to construct. Rather than being the life-saving raft for all species on earth, however, the Ark Encounter instead features two full decks of educational exhibits; specifically portraying the daily life of Noah and his family during their time on the ark. Your group will learn about how everyone onboard lived, how meals were prepared, where everyone slept, and even how Noah's family kept from getting bored! Plan your trip carefully and you may even get to enjoy one of the Ark Encounter's many annual events, which could be anything from presentations, movie premiers, and conferences, to concerts and live animal encounters. In terms of transportation, you won't have to worry about a thing. Rochester Limousine will always get you and your group where you need to go!
Make It A Motorcoach Trip!
There's no better way to travel to experience the Ark Encounter than by traveling with Rochester Limousine. Whether you have a smaller group, and therefore would like to reduce your expenses by using one of our smaller 27-passenger GM33 corporate motorcoaches, or you're looking at our extraordinary MCI J4500 luxury motorcoach that seats over 50 people so you can invite as many from your congregation as possible, we are determined to make your journey as safe, comfortable, and convenient for you as possible. Best of all, no matter which of our magnificent motorcoaches you choose, you'll still have plenty of entertainment onboard to keep things exciting every step of the way, including LCD TVs, DVD players, premium audio systems, panoramic windows for checking out the sights, 110/USB plugs, and so much more. Our largest motorcoaches even have an onboard bathroom for our guests' ideal comfort until we arrive safely at our destination.
Excited to schedule your motorcoach road trip to the Ark Encounter? Don't wait. As soon as you decide which of our incredible motorcoaches you want to host your Ark Encounter, get in touch with Rochester Limousine so we can start getting everything your group needs together to guarantee an amazing voyage! Contact us today by calling 248.289.6665 or by filling out the request a quote form.