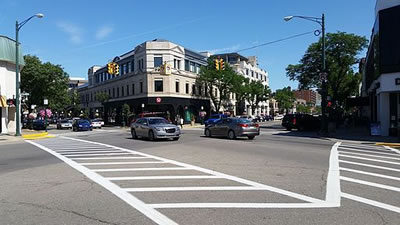 Summer is the perfect time to explore new and old places alike. When most people think of going exploring, they tend to think they need to book a plane ticket and head somewhere across the ocean. While this is certainly a great way to explore unknown parts of the world and experience new things, it definitely isn't necessary to create great memories. Exploring the world right in your own backyard can be just as rewarding and far less costly in terms of time and money.
With all the neighborhoods in Metro Detroit with something unique to offer, it's easy to step into a world you aren't familiar with in just a short time on the road. If you haven't been to downtown Birmingham in a while and are looking for a reason to get out of the house, a day or night out on the town could be just the thing you need. To help you get around when it's time to head out, having a luxury SUV, limousine, or party bus can be a great way to make the most of your time out on the town. Without having to worry about driving, you'll be able to fully enjoy your experience. To get you started thinking of places to explore, here's our list of Birmingham hot spots.
Griffin Claw Brewing Company
Who said all great breweries in Michigan were up north or on the West side? Griffin Claw Brewing Company brings fresh craft beer to the suburbs of Detroit with their downtown Birmingham location. Enjoy fresh brew and a delicious menu that makes a perfect daytime stop while you are out and exploring. Consider making this the start of your afternoon out, spending the rest of the day bar and restaurant hopping! Simply tell your limo chauffeur where you want to go next and away you go!
Hunter House Hamburgers
One of Woodward's most iconic restaurants, Hunter House Hamburgers has been around for ages. With a small diner-like setting and a limited menu featuring burgers, fries, and shakes, Hunter House makes for a great place to stop to grab a quick dinner before getting out and exploring the town. With your own SUV or limousine rented out for the night, you can pick the stops as you would like in whatever order suits the needs of you and your group.
Rugby Grille
For a more classic upscale dining experience, the Rugby Grille may be just what you are looking for. Located right in downtown Birmingham, the Rugby Grille features steakhouse classics and a wine list to please even the pickiest of guests. Having your own limousine for the evening means you won't have to worry about driving home after you and your special someone or group has shared a bottle of wine. With this in mind, you can just take your time and savor the exquisite experience the Rugby Grille has to offer!
For a FREE Metro Detroit Limo Rental or Party Bus Quote to Birminham
Getting your own luxury SUV, limousine, or party bus rented out for a night or day out in Birmingham couldn't be easier. Contact Rochester Limos to receive a free quote on SUV, Limo and Party Bus Rental to Birmingham, MI by calling 248.289.6665.  Birmingham's Choice for Limo Rental Service!
Photo Credit: By OmidGul (Own work) [CC BY-SA 4.0], via Wikimedia Commons