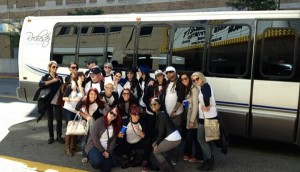 You have big plans coming up and you want to make them absolutely amazing. A night out, a bachelor party, a corporate event – any occasion can be made incredible with a Shelby Township limo rental from Metro Detroit Limos. The luxurious ride to and from an event and the head-turning beauty of the vehicles themselves is enough to take any event from great to unforgettable.
If you've never booked a Shelby Township limo before, then let us be the first to congratulate you on a great decision. Being a first timer, however, there may be some things that you don't know off hand when it comes to renting a limousine.
Here are a few questions to ask yourself as you make the booking a Shelby Township limo:
How Many People Are Coming?
Because we have many different vehicles in our fleet, we are able to accommodate different sizes of groups. That said, the last thing we want to see happen is you order a party bus for 30 hoping people show up to fill it, and only picking up 5 or 6 when we get there. On the other side, we don't want to have to turn away people in your party because you ordered too small of a limo. Have a general sense of how many people will be there before making the booking.
What Is Considered a Generous Tip?
Our drivers are professionals and want to make sure you have a great time while out on the town. Generally speaking, 15 to 20 percent of the total bill is the norm. If you have a good time however, then maybe a few extra dollars to the driver isn't a bad idea.
How Long Do I Want the Limo for?
Our Shelby Township limos are paid for with a flat rate. That means that you pay upfront for however long you'd like your journey to be. We're open to negotiating how long you'd like your limo, and we'd be more than happy to create the perfect limo package to fit your needs. If you are planning a few different stops along the way, be sure to book a little bit of time before and after the time that you think these events will wrap up – just to be on the safe side.
Should I Worry About Any of My Guests?
As mentioned, it's your night to go out and enjoy yourself. However, it's important that you know beforehand if you may have someone coming with you that could potentially cause problems. We ask that our passengers are courteous to the drivers and are respectful of our vehicles before, during, and after the ride is complete. If you're worried about someone in your party, be sure that everyone coming is on the same page with regards to limousine etiquette. Have a good time, and just be respectful. That's all we ask!
If you're ready to book your Shelby Township limo for an upcoming event, don't hesitate to contact Metro Detroit Limos today. We recommend that our customers book early to ensure you get the limo you want on your specific date.