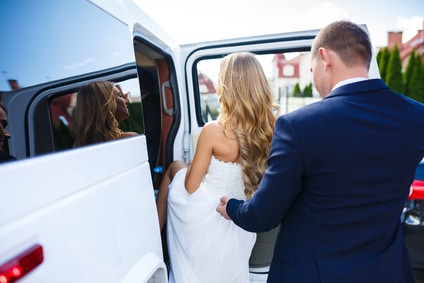 Planning your wedding or the wedding of a loved one can be a great experience. Because your wedding day is one of the days you may have dreamed of for years prior and will remember for years to come, you should put a lot of thought into all of the details. From the colors of the napkins on the guest tables to the song played for your first dance as a married couple, everything can be planned. While everything may be planned ahead of time, it's important to know that some things may not go exactly as planned. Because of this, it's important to work with people experienced in the wedding industry who know just what to do when there is a minor roadblock. This is especially true when it comes to transportation on your wedding day. By working with an Auburn Hills wedding limo service, you can rest assured knowing they have dealt with all types of unforeseen circumstances. Aside from being able to handle the uncertainty of a wedding day, renting a wedding limo for you and your wedding party can provide many benefits. Here are just a few of them.
1. Comfort
The ride to your wedding venue can be a particularly emotional one. As these will be the moments leading up to the "I dos," you will probably want to be as comfortable as possible. In addition to that, you and your wedding party will be dressed and ready to go as you head off to the venue so having some room to spread out will be a huge advantage over other types of transportation.
2. Safety
An experienced wedding limo rental company will only hire the best drivers who are fully licensed and capable of driving a vehicle such as a limo or a party bus. With this in mind, you'll be able to enjoy the ride even more knowing you are in good hands. With all the important people that will be riding in the back, don't you want to make sure you're with an experienced service provider?
3. Amenities
Limousines are some of the most luxurious automobiles available. You can request to have a limo with TVs, a wet bar, and special lights. You can also make special requests like having a red carpet rolled out to guide you into the wedding venue or special beverages waiting for you when you get inside the limo. Don't forget to come with your own wedding playlist ready to get you and your bridal party in the celebrating mood!
Hire the Best Auburn Hills Wedding Limo Service
These are just a few of the reasons a limo makes sense as a method of transportation to the venue on your wedding day. Add in the fun factor and it really is a no-brainer! If you are looking for Auburn Hills wedding limo service, the professionals at Rochester Limousine are awaiting your call to schedule your first meeting.
Call Rochester Limousine – 248.289.6665