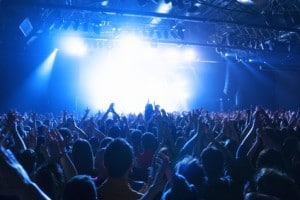 Summertime is looking absolutely packed for events in Detroit, especially in June. From exciting concerts to community events in the city, there is something for everyone! What better way to get to these events than by renting a Metro Detroit limo service? We pride ourselves on being the best luxury transportation in the entire city, and would love to escort you to your next major event!
Here are five June events that would be perfect for renting a Metro Detroit limo service:
Twenty One Pilots have exploded onto the mainstream rock scene over the past few years with infectious hit singles such as "Stressed Out" and "Tear In My Heart", and have been growing a steadily-increasing reputation for their rambunctious yet heartfelt performances. The genuine nature of these artists make them great for fans of all ages, and their live shows are bound to be huge! Selling out all over the country, it's best to get your tickets early for this one!
Two indie rock super groups come together for an unforgettable night this June. The foreign bands have gained huge traction in the States over the past few years, and both acts have been selling out all over the country. This is another combination you won't want to miss out on!
Selena is back on June 24th with her new tour, "The Revival Tour" in support of her new album, appropriately titled "Revival". The lead single off of the new album, "Good For You" has already topped out the Top 40 charts for three consecutive weeks following its release, and the popular song has sold a total of 22 million singles so far. This will be her first tour since the sold out "Stars Dance Tour" in 2013, so be sure to nab tickets early for this one as well! And while you are at it, why not look into renting a Metro Detroit limo service
The iconic Beatles drummer is at it again with the help of Todd Rundgren, Gregg Rolie, Steve Lukather, Richard Page, Warren Ham and Gregg Bissonette. The band has been touring nationally for a few years now, and a recent review in the Sarasota-Tribune-Herald had this to say: "This latest incarnation of Starr's travelling show has been together now going on three years and watching them interact as an actual band, rather than a super group taking turns out front, is almost as fun, almost, as watching and screaming "I love you" at the front man who will forever be part of the biggest rock 'n' roll band of all time."
This celebration of the Detroit RiverWalk will be a multi-day event packed with fun, games, live music, jet-ski tours and much, much more! It will surely be fun for the whole family, so bring everyone out to enjoy the weather and the river in style!
Summertime is looking packed for events in Detroit, especially in June. Reach out to us at Metro Detroit Limo today for all of your event transportation needs!