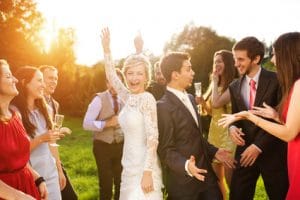 Utica wedding season is here in Metro Detroit, and the airport is sure to be full of people who are arriving to see their sons, daughters, nieces, nephews, grandchildren, brothers, sisters, and friends get married. It's an important day, and it will be nice to have the whole family coming in to witness the bride and groom swear their lives to each other.That being said, the transportation of all of these people to and from the airport can be a logistical nightmare. So many people with different places to be and different landing times can add headache after headache to even the most organized person. That's why you can help skip all of that hassle by booking a limo for airport pickup.
Here are some reasons why a limo for airport pickup is the best option to collect all of your Utica wedding attendees.
Efficient
With a Metro Detroit limo booked for airport pickup, you don't have to worry about anyone becoming lost in the city or taking a longer route than necessary to their destination. Our limo drivers know Metro Detroit very well and will be able to quickly deliver people to their hotel or residences without any of the hassle that they would normally receive from a taxi or with a rental car.
Flexible Timing
Unfortunately for you, not everyone will be on flights one after the other. This, of course, would make the planning far too simple. Typically, all of the people who are coming to your Utica wedding will arrive in bursts or over the course of a few days. Airport pickup via limousine is actually fairly easy to manage however. As long as you have the names and flight information for the people being picked up, our limos will be there on time and ready to receive your guests.
Courteous
Utica wedding goers usually have a lot on their mind when they get off of a flight – especially if they're in the wedding party. So they won't want to deal with a crusty cab driver or a car rental spot. With an airport limousine, the driver will be able to meet them in the arrivals area and escort them to the vehicle. This will save some confusion, and allow your guests to take a load off after their flight.
Cost Effective
The best thing about limousines for airport pickup is their price point. Booking an airport limo means you'll receive a flat rate, which is far better than the fare system used in taxis. Additionally, if you book the limo early enough, we will be able to help build an entire wedding limo package for you – including airport limousines. By having a limousine ready to collect your guests, you're also saving them money by ensuring they don't have to pay a taxi to drive them anywhere. A limo's base price is typically lower than a series of taxi fares when broken down into equal parts. So if you are looking to keep your transportation budget in tact while planning the wedding, be sure to book a limo for airport pickup.
If you are planning a Utica Wedding, you should book an airport limo pickup for your out-of-town guests. Call the professional planners and drivers at Metro Detroit Limo today!