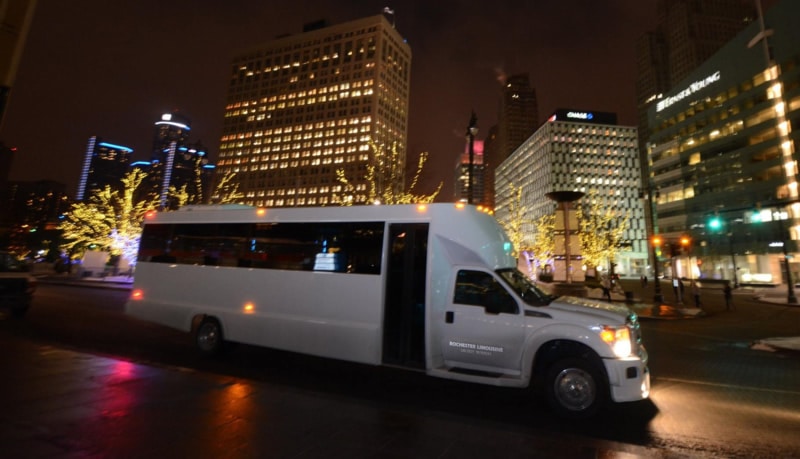 If you work hard, you deserve to play hard too. That's why, at Rochester Limousine, we offer incredibly lavish party bus rentals that are perfect for corporate events! So exactly how and/or why are our party bus rentals so exceptionally perfect for corporate events? Well…
Safety
Our party bus rentals here at Rochester Limousine are part of the newest fleet in all of Metro Detroit, meaning that our luxury vehicles have been built with all the latest safety features and technologies to ensure that everyone arrives where they need to be safe and sound.
Reliability
Our party bus rentals are certainly fantastic, but our professionals behind the scenes are just as extraordinary. Our support staff is always available to answer any questions you may have, or make any adjustments to your travel plans that you may need, and our courteous drivers exhibit exceptional knowledge of the Metro Detroit area, and are entirely dedicated to ensuring that your group enjoys a wonderful experience with us while out on the road. At the very least you can always feel confident that you and your guests will be picked up and dropped off exactly when you need to, and that we can handle any challenges that may or may not come up.
Comfort
Our party bus rentals are so comfortable you might not even believe you're in a road vehicle. With clean, plush seating for up to 45 total passengers at a time, our party bus rentals are more like mobile luxury lounges than mere means of transportation.
Features
Corporate events are all about bonding, but that doesn't mean you have to wait until you arrive at your final destination to get the party started. After all, the best way to make the most of every second of your main event is to get everyone pumped by "pre-gaming" before/on the way there! Thankfully, our party bus rentals are decked out with full-service bars, flat screen televisions, professional-grade sound equipment, festive mood lighting, and more to guarantee an entertaining adventure. And don't worry; we'll try our best not to upstage your main event!
Reputation
People can talk about their party bus rentals being the best all day long, but our fleet of party bus rentals, and other luxury vehicles, at Rochester Limousine was officially voted "Best in Metro Detroit" twice in a row for a reason. When it comes to trusting the right people with an event as important as yours, you'll never regret trusting Rochester Limousine. If you are in the Metro Detroit area and are looking for party bus rentals that are perfect for corporate events, then please contact us today by calling 248.289.6665 or by filling out the request a quote form.