The Wedding Limo: Your Wheels on the Big Day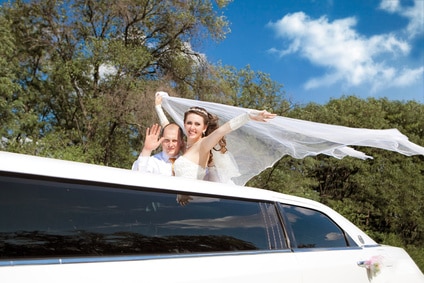 When it comes to the topics of weddings, the real work takes place between the "Yes!" and the "I do." The amount of work that goes into planning a wedding, especially if you want it done the right way, takes hours and hours and gets much easier when you have some experience in the industry. For those reasons, there are dedicated professionals in every part of the wedding industry, including: general wedding planners, photographers, videographers, and cake makers. When it comes to transportation, there are wedding professionals there too, but they don't get all the praise as some of the other professionals. However, just because wedding transportation professionals don't get the publicity they deserve, doesn't mean they aren't crucial to making the day go as planned. If you are planning a wedding and haven't thought about transportation for the big day, it's probably time you do so! Here are some of the highlights to having your own professional wedding limousine to bring you to and from the wedding venue.
1. Reliable Service
On your wedding day, the last thing you want to be is late. When you have a professionally chauffeured wedding limousine service taking care of the transportation, you won't have to worry about that becoming a reality. With years of experience, wedding limousine drivers know what it takes to make it to the venue on time. You can work with your Madison Heights wedding limo service to create a timeline that works for you and gets you there on time!
2. Your Limo Your Way
With your own wedding limo comes with it the ability to create any type of limousine experience you want. While it may take some planning ahead of time, you can work with the wedding limo rental service company to take special photos, surprise a special wedding guest with an unannounced pick up (make sure to plan well for that one), or any other custom experience you could want. You can also arrange for your favorite snacks and beverages to be waiting for you in your limousine after the ceremony and on your way to the venue!
3. Style and Comfort
When the limousine pulls up to the ceremony or reception, no one will be wondering who is inside (unless you have some royal family members). Riding in your wedding limousine, you will be in one of the most stylish and luxurious automobiles on the road. In addition to looking good, you will also feel good as the inside of limousines is even more luxurious than the outside. You won't be cramped inside the spacious interior which can become a big deal when everyone is dressed in their full wedding attire.
Reserve a Madison Heights Wedding Limo Today
These are just a few of the reasons to rent out a chauffeured limousine for your wedding day. To learn more about Madison Heights wedding limo services and to get in touch with the best limo service provider, contact Rochester Limousine today!
Call Rochester Limousine: 248.289.6665