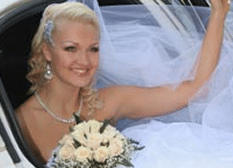 Summer has arrived in Metro Detroit, and young couples everywhere will soon be tying the knot during what's sure to be a busy wedding season. Weddings are always magical experiences for any couple, but the planning stage for the wedding can be a bit of a hassle. There are always so many balls in the air that it's quite common for a few things to get lost in the shuffle sometimes. One thing you should factor into your wedding plans is the transportation for the bride and groom. That transportation should be as glamorous as the newlyweds themselves, so you should definitely consider hiring a Bloomfield Hills wedding limo for the occasion.
Here are a few reasons why renting a Bloomfield Hills wedding limo is a great idea to include in your wedding plans.
Cost Effective
One reason to invest in a Metro Detroit limo company for the wedding is because of how easy a limo fits into an overall budget. As you well know, there is a budget set up for every wedding, and the planner's job is to try to stay within the budget as best they can. By hiring a Bloomfield Hills wedding limo to drive the bride and groom away from the service and to the reception, you are able to very easily stay on or under your transportation budget. Limo packages can be set up to fit whatever wedding plans have been made so that your dollar stretches farther while receiving a beautiful ride.
Glamorous Ride
With the abundance of suits and dresses that will be present at the wedding, none will be more glamorous than what the bride and groom will be wearing. All eyes will be on them during the ceremony, so why not keep all eyes glued on the couple as they exit in a stretch white Bloomfield Hills wedding limo? The exterior is elegant and sleek, and we have plenty of different limo options to choose from in order to give the bride and groom a proper send off. Not only is it beautiful on the outside, but the interior is leather-clad and complete with a bar and glassware for a celebratory glass of something refreshing.
Easy Transportation Option
The last thing the bride and groom need on their big day is a complicated ride. Having everything set up properly well ahead of time is very important so that there are no issues getting the newlyweds from the chapel to the reception. By hiring a Bloomfield Hills wedding limo well ahead of the wedding, you are able to concisely map out where the limo needs to be and where it will be headed. Another bonus is the fact that the entire wedding party can climb into a larger limo for the reception in order to keep everyone together. Having the whole party arrive at the same time will make the whole evening after the ceremony go much smoother.
As a future bride or groom, you no doubt are interested in making your day more special and as stress-free as possible. With a Metro Detroit Limo, you can achieve both accounts. Treat yourself on your big day and let us do the driving in a Bloomfield Hills wedding limo. Be sure to book as early as possible to ensure our availability on your wedding date.