Why Your Guests Need DTW Airport Pickup in a Limo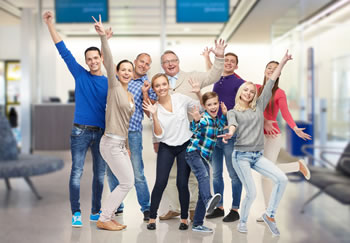 Deciding who is on your wedding guest list is one of the most time intensive and emotional parts of planning a wedding. While you probably can't invite everyone, there will be some people on your list who wouldn't miss it for the world. If those people have to travel long distances, they may even deserve some special recognition. If you have ever travelled across state lines via air for a wedding, you probably know it's no walk in the park. Travelling with your wedding attire undamaged and making it to your first wedding event of the weekend on time is nothing short of a miracle.
To help make these brave travelers a little more comfortable during their stay here in Metro Detroit for your wedding, there are a few things you can do. For one, helping them find a hotel that is convenient for the weekend will save them tons of time. Second, getting them their own luxury ride from the airport to the hotel can help them to sit back and relax once they've landed here in Detroit. To give you some more insight into the benefits of having a ride arranged for your out of town wedding guests, consider the following.
An DTW Airport Ride Means No Rental Car
 When your guests have a reliable (and luxurious!) limousine or luxury SUV already waiting for them at the airport, they won't have to worry about renting their own car for the weekend. If you aren't very experienced at renting cars from airport kiosks, just know your guests will truly appreciate not having to go through the hassle!
No Directions? No Problem
 If it has been a while since your guests' last stop in Metro Detroit, they may have a hard time navigating the roads. With an experienced chauffeur picking them up from the airport terminal at Metro Detroit airport, they won't have to worry about getting from point A to B. Simply let their driver know which hotel they are staying at and they'll be there before they know it.
A Safe Ride in the City
This may be a little bit more important for any elderly guests who may be coming but aren't comfortable driving after dark, or at all. If you have guests coming after work on Friday, there is a good chance they won't beat the sun on their arrival. With a ride already set up for them, they won't have to worry about finding their way through unknown territory without daylight to make it easier.
A Luxury Arrival
With a professional airport limo transportation company picking your guests up, you can arrange for a special experience to greet your guests when they land. Having some champagne waiting for them in the back of their ride can surely help to get the wedding weekend off to a great start!
To Reserve A DTW / Detroit Metro Airport Limo
To learn more about getting a limousine or luxury SUV to pick up your guests for DTW / Detroit Metro Airport, contact Rochester Limousine — Detroit's Choice for DTW Airport Limo Service.