The Easiest Way to Make Your Detroit Bachelor Party Unforgettable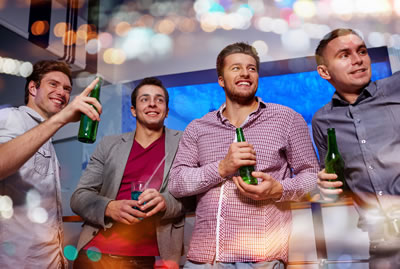 When you set out to plan a bachelor party, whether your own or someone else's, it can feel like there's a lot of pressure to plan an unforgettable night. Most guys have been on a "bachelor party weekend" where someone invites their old uncle who just talks about the good old days around the fire all night. On the opposite end, some guys plan extravagant bachelor party weekends in Las Vegas that may seem a little too outrageous and expensive for you. For those who are looking for a unique experience right here in Detroit, we have the solution for you!
Have you ever been bar hopping around town only to find that you spend a quarter of the time calling your Uber and waiting around for them to show up? If you want to check out all of your favorite bars and restaurants for the upcoming bachelor party without any of the hassle, get a party bus for you and your crew to ride around the city in style as you see fit. With your own party bus, you will have dedicated transportation on your schedule. To learn more about what makes having a party bus so great for a bachelor party, consider the following.
The Only Way to Ride Together
Bachelor party guest lists can be pretty sizable when all important family members and friends get factored in. With more than 4 people, it's hard to move around from place to place without having to split up. With a party bus, you can put that worry in the past. With different size options, you can pick just the right bus for you and your group to get around the city without having to break up the pack. You'll all be able to stay together as you move around for the night, and will even be able to drink, eat, and watch TV while on the bus!
A Real Chauffeur
When you hop into an Uber, Lyft, and even a cab these days, you never know who will be behind the wheel. Sometimes you get someone who's familiar with all the hot spots and streets, and other times you get someone from outside the city that doesn't know their way around. With a party bus, you can rest assured that you will have the same driver for the whole night who knows how to get around the city like a professional. Instead of checking your maps app to make sure you're going the right way, you can just sit back and enjoy the ride!
Door to Door Service
 You can count on your driver picking you up right from your pre-determined location and getting you as close as possible to the front door of every bar, club, or restaurant you want to visit throughout the night. When the night is over and it's time to go home, just hop back in the bus and you'll be off to where you started! You won't have to worry about anyone getting behind the wheel, and everyone in your group will be able to drink and party as much as they like.
I Need A Party Bus Service Near Me for My Bachelor Party!
Having a party bus has tons of benefits for those looking for the ultimate bachelor party experience at home. To learn more, get in touch with your local Detroit party bus rental company today at Rochester Limousine by calling 248.289.6665.  Detroit's Choice for Party Bus and Limo Service.