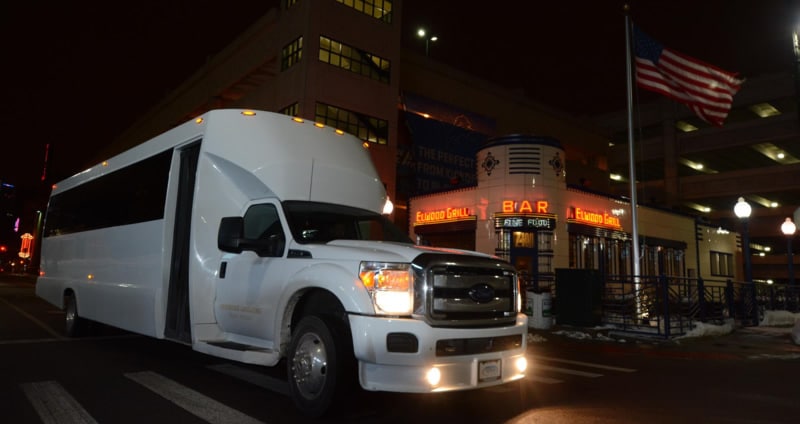 December is here again and the official start of winter is right around the corner. With the frigid temperatures and first snowfalls, now is the perfect time to plan your ideal night out in Downtown Detroit. Whether you just want to get away for the night with your special someone, or have a group visiting from out of town, heading Downtown for the night to a special show or event is the perfect way to escape daily life, celebrate the holiday season, and experience our beautiful city. No matter what your event of choice may be, there is only one way to deal with transportation for your night out: Detroit limo service. When you have a professional chauffeur taking care of the hard work, you are free to enjoy each other's company and get ready for the big event. Here are just a few of the ways you can benefit from a limousine chauffeuring you to your event of choice this holiday season.
1. Party Your Way Down to the Red Wings Game
With this season being the last the Red Wings will play at the Joe Louis arena, now is the perfect time to make it Downtown for one more game. When you have Detroit limo service taking you to see the Wings take on the Sabres on December 27th, you'll be able to party on your way downtown for the ultimate pregame. With your own party bus, you'll be able to bring a case of your own favorite beverage to enjoy while you're en route to the Joe. No other transportation option gives you this kind of freedom!
2. Arrive in Style to See A Christmas Story at the Fox Theatre
With 'A Christmas Story' playing at the Fox Theatre from December 20th through 24th, it's the perfect time to get the family together to head Downtown and see the show. Reserve Detroit limo service and not only will you not have to worry about driving for the night but you'll feel like the star of the show when you pull up right to the front doors in your chauffeured limousine. If there was ever a time of year to get dressed up and pamper yourself, the holiday season is the time to do it!
3. Pull Up to the Fillmore Feeling like a VIP!
If music is more your thing, there is no shortage of that in the Motor City. With Blackberry Smoke playing at the Fillmore on December 29th, you have one last chance to see a show before the new year. When you have your own party bus bringing you Downtown and back for the show, you won't have to worry about making your own driving arrangements or finding parking!
Reserve Detroit Limo Service with Rochester Limousine
With everything going on Downtown this holiday season, it makes sense to hire Detroit limo service and let someone else handle the transportation details! Contact Rochester Limousine today for more information.
Call Rochester Limousine: 248.289.6665