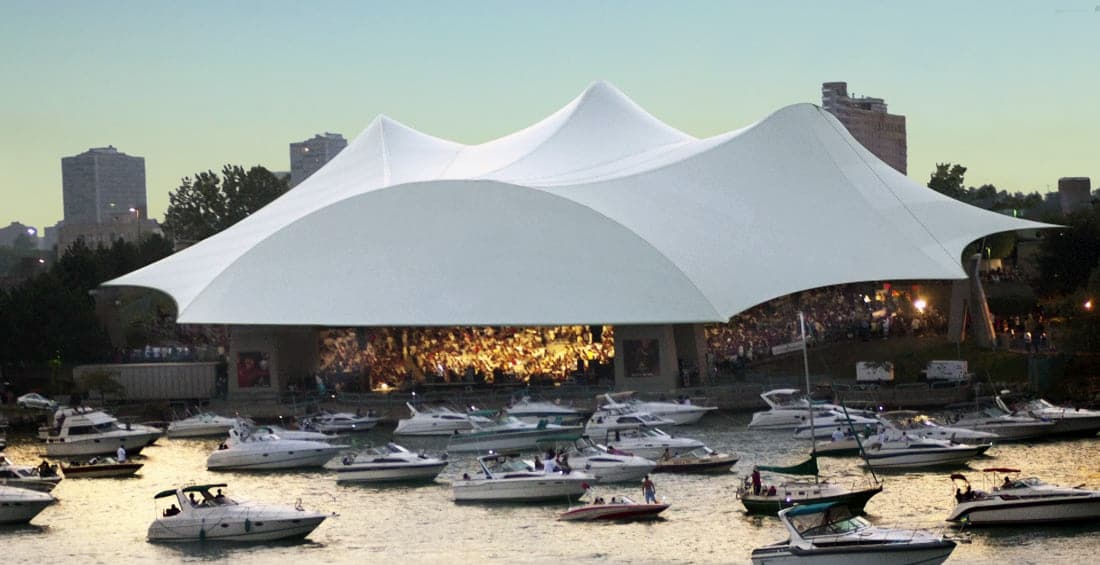 The Aretha Franklin Amphitheatre, formally known as Chene Park, is renowned as one of the most exciting concert spaces in the heart of downtown Detroit, and is truly the epicenter of live entertainment every summer for Michiganders in the metro area. Altogether, it offers seating for 5,000 with enough lawn space to accommodate an additional 1,000 guests atop more than nine acres of site space featuring impeccable views of Canada, and is even ranked one of the "top 100 concert venues in the world!" Of course, if its amazing park trails, stunning riverfront location, beautiful Chene Park Fountain, and scrumptious Lake Lounge bar aren't enough to impress you – that's okay because its summer lineup of spectacular A-listers definitely will. The Aretha Franklin Amphitheatre has hosted countless incredible performers throughout the years from almost every genre of the music industry, and this year is looking to be just as exceptional as every summer past.
Looking forward to this upcoming summer season? So are we! And the best part is the Aretha Franklin Amphitheatre 2019 summer concert schedule is officially here! That means, now's the time to start taking a look at all the upcoming shows so that you can decide which incredible events you just can't miss. Of course, you don't want to take too long. Many loyal fans often try to get their tickets before the full schedule is even out, and on Box Office opening day hundreds of people line up regardless of the weather to make sure they're the first to buy tickets – so competition is often fierce. Furthermore, if you wait too long, you won't be able to reserve our incredible luxury transportation at Rochester Limousine for your night out – and we can't have that! So do yourself, and your guests, a favor and take a look below at the Aretha Franklin Amphitheatre's upcoming concert schedule right now so you can start planning your next musical adventure today! And don't worry, at Rochester Limousine, we have all kinds of incredible luxury vehicles for you to choose from to ensure a fantastic journey. From our classic yet lavish limousine service, to our remarkable party buses, we really do have everything you need to enjoy the best concert experience!
Upcoming 2019 Shows and Events:
June 1st – Tom Joyner One More Time Experience
June 5th – Ticket Seat License
June 5th – Damien Escobar
June 12th – Johnathan Butler & Kirk Whalum
June 15th – Charlie Wilson and The Whispers
June 16th – Charlie Wilson
June 19th – Kenny G.
June 26th – Black Violin
July 3rd – Loose Ends & Rahsaan Patterson
July 5th – Snoop Dogg – Puff Puff Pass Tour
July 10th – Superstars of Jazz Fusion – Featuring Roy Ayers, Miki Howard, Lonnie Liston Smith
July 17th – Robert Glasper
July 24th – PJ Morton & Dwele
July 27th – Maxwell
July 31st – Najee
August 2nd – UB40
August 7th – Rose Royce & Con Funk Shun
August 8th – Herbie Hancock & Kamasi Washington
August 9th – Lost 80's Live
August 10th – Anthony Hamilton
August 11th – Gladys Knight
August 14th – Double Vision Revisited – Featuring Bob James, David Sanborn, and Marcus Miller
August 21st – Michael Franks
If you are in the Metro Detroit area and are looking to book transportation to Chene Park aka The Aretha Franklin Amphitheatre, then please contact us today by calling 248.289.6665 or by filling out the request a quote form.