Have Your Choice of Limo for Your Metro Detroit Event
When you are planning your next outing into Detroit, you want everything to be perfect. Whether it's a special anniversary, your best friend's birthday, or a bachelor or bachelorette party, the night is going to be magical. Planning the restaurants and extra-curricular entertainment is very common for events like this. Sometimes, however, the ride to these places gets overlooked.
If you want your special night to go off without a hitch, then you will need a ride that reflects just how special the event is meant to be. By reserving limo service in Metro Detroit, you are ensuring that your party will be even more glamorous than you had hoped. Here are some options to consider as you book your next Detroit limo service.
Hummer and Large Limousines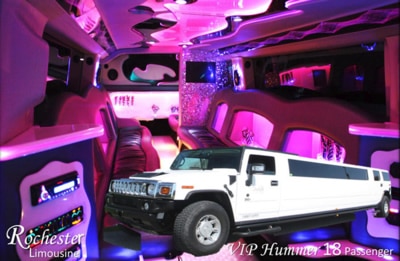 If you are in need of a luxury vehicle large enough to port you and your friends to a game or downtown, then consider a Hummer limo. Many can accommodate 18 people, like the VIP Hummer, and a slightly larger option, the LGE Hummer, has a capacity to carry 18-20 passengers. With Rochester Limousine, the VIP Hummer will provide all of the necessities for a good time already installed: a wet bar, a CD player, an even a private VIP area. The seating has fiber optic mood lighting installed that is able to be changed depending on the mood you want to set.
Rochester Limousine's LGE Hummer has beautiful wood floors and a "Star Gazer" ceiling, along with a wet bar and CD player. There is also laser lighting that is sure to add to your party's entertainment throughout the event.
You can also choose a suburban model that can handle 18 to 20 people and has 2 bars and wrap around seating. This model allows you to be the DJ with an iPod and MP3 hookup on the stereo system.
Stretch Limousines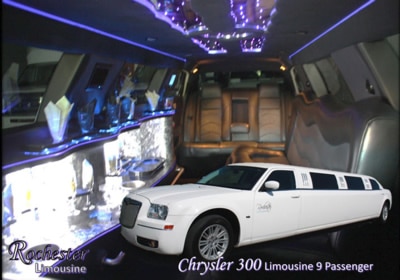 If you have a smaller gathering that wants to head into downtown Detroit, a smaller, more intimate limousine may be just the thing. Rochester Limousine's Chrysler limos are equipped to handle between 9 and 12 passengers comfortably. Having a comfortable ride is important while you're being driven around town in style, and the leather seats will provide more than enough comfort for you and your party.
Larger limos can hold 12 passengers and many come with televisions and a huge wheelbase. Extra features can include strobe lights and laser lights will only add to the festivities. You'll be able to keep a handle on your party with the hands-free intercom system. Although there is no bar inside a limousine, there is a huge island that can hold all of the beverages you desire.
The 9 passenger model is perfect for those who want luxury limo service in Detroit without all of the bells and whistles. The ride is comfortable, the mood lighting settings and the music is completely up to you, and there is ample room for you and your party to enjoy the evening.
Book the Perfect Limo Service in Metro Detroit
If you are interested in booking limo service for your next night on the town in Detroit, give Rochester Limousine a call today.
Call 24/7: 248.289.6665