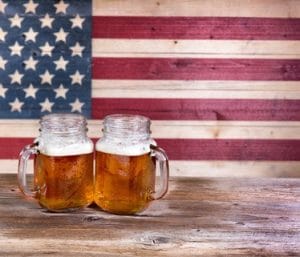 It's never too early to plan the perfect 4th of July party, and now's the time to do it. You may be thinking of having a great barbecue in the back yard with some buddies and watching some baseball. Maybe this year, however, it's time to kick things up a notch. Why not book a Metro Detroit limousine or party bus to take you and your friends on a 4th of July extravaganza!
Let a Metro Detroit Limousine Handle the Driving
There's nothing like a cold one on the 4th of July. Something just feels right about a frosty beverage and a burger or wing off of your own grill. If you are planning your pub crawl to leave from your home, there's no sense in any of your friends "sobering up" enough to drive since you'll all probably be having a pint or two while on the crawl. With a Metro Detroit limo or party bus , you and your friends can get as wild as you want while we take care of the transportation. We'll keep you safe while you celebrate the holiday.
Enjoy some Patios
The 4th of July falls smack dab into patio season, so during your crawl you'll want to enjoy as many patios as possible. With a Metro Detroit limousine or party bus taking you around town, you'll be able to get to the bars you want to get to with ease. Our drivers are professionals and they know the city like the back of their hand. You'll be in good shape to sit on a few patios that evening.

Tour Detroit in the Summer
The great thing about a Metro Detroit limousine or party bus is that they are able to take the party wherever you want to go. If you want to head downtown, you'll be more than able to go, but the fully stocked bars in our party busses and limos will be able to keep you and your guests satisfied throughout the evening. You can bring your own beverages for the journey as well and keep the party going as you tour the city.
Enjoy the 4th of July fireworks
What a better way to end the night than by watching the fireworks from the comfort of you Metro Detroit limo?! You can watch the famed Ford Fireworks from the many windows while sipping on adult beverages, or, you can have the limo driver drop you off at the entrance to the viewing area so you don't have to fight traffic and park miles away.  Once the firework display is over, simply head to your next spot or sit with the other drivers in traffic. Beat the crowds and enjoy an amazing evening this 4th of July!
The 4th of July festivities will be plentiful, and you won't want to miss out on any of the action. By calling early, you'll be able to rent your Metro Detroit limousine or party bus very easily. We will be able to set you up with the exact package you need to make the holiday that much better. Call Metro Detroit Limo today! You'll be glad you did.