Holiday Plans Need a Holiday Ride!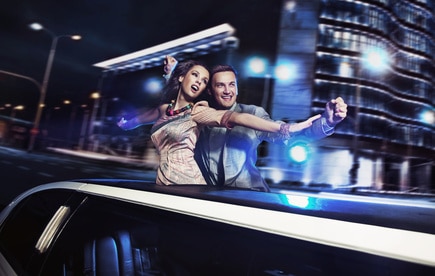 November already? Where did the summer go?! As we here in Metro Detroit begin to enjoy our last few days of nice fall weather, we are reminded of the time of year that is soon to be upon us. That's right, ready or not, the holidays are almost here again. While you may be able to hold off on doing any gift shopping for at least another few weeks, some plans are better made ahead of time. If you have friends and family coming into town, it may be the perfect time to start planning your holiday activities before things get too hectic.
With all that is going on in Downtown Detroit this holiday season, why not head out for a night on the town? The options are endless with Red Wings games, plays, and concerts! No matter what your preferred entertainment is, you will need a safe way to get there and back. With Bloomfield Twp limo service, you can get downtown and home safely while enjoying plenty of other benefits! Here are a few of the perks of having your own limousine or party bus for the night.
1. A Stylish Ride
With your own party bus or limo, you will certainly be riding in style. Depending on your preference of party bus or limo, you can reserve the perfect ride for your group ahead of time. If you are going for a more relaxing night in the city with possibly dinner and a show, a limousine may be more your style. With long luxurious seating and lights throughout, you will feel like you are the star of the night. On the contrary, if you are looking for a little more excitement and heading to a sporting event or a rock concert, a party bus can really set the tone for the night with multiple TVs and a loud stereo system.
2. A Safer Option
With a professionally chauffeured limousine or party bus you won't have to worry about safe transportation for the evening. Not only will your chauffeur be professionally licensed and trained to operate your automobile for the night but you also won't have to worry about getting behind the wheel yourself. With this in mind, you can focus on having fun with friends and family!
3. Cost Effective
While many people assume the cost of a limousine or party bus is out of their price range, it is important to keep the alternatives in mind. If you are keen to be home safely by the time the night is over, a limousine or party bus is a much more reliable and cost effective option as opposed to trying your luck with a cab when you are ready to head home. With the cost divided amongst all the people inside, you could even be saving money!
Reserve Bloomfield Twp Limo Service this Holiday Season
To learn more about reserving Bloomfield Twp limo service this holiday season, contact Rochester Limousine today!
Call Rochester Limousine:248.289.6665