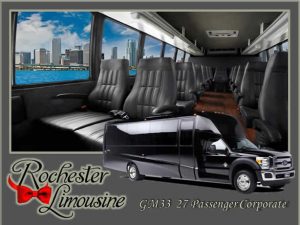 Summer is nearly here but the office won't be stopping any time soon. Unfortunately, there is no "summer vacation" for those in the corporate world. That's why it's always nice when the boss has a summer corporate event for the staff so they can let off some steam. If you are in charge of booking the event, you should strongly consider booking a Metro Detroit limo or party bus. Here are a few reasons why.
Cost Effective
Planning these events takes some crunching of numbers. Who would have thought that the party meant to take your mind off of work would require the accounting skills you use while working? Because you are seeing the numbers as they play out, you probably notice that taxis are not cost effective. Their running fares and sometimes circuitous routes around town can make getting home after a long night a challenge. With a party bus or limousine, the flat rate is negotiated beforehand and can be much cheaper than having a fleet of taxis come pick up the employees.
Convenience
Keeping with the taxi or limo argument, taxis can take quite a while to reach their destination. Whether it's to or from the event, there's no doubt you'll be waiting a while. By booking a limousine for the event, you are guaranteed to have a limo at your location at or before the scheduled arrival time. Being late is also avoidable by booking a limousine.
Show Appreciation
The employees work long and hard for the company and a summer corporate event is a great gesture to show them some kudos. If you really want to show them that they have gone the extra mile this year, a party bus will absolutely send that message. When the employees all climb aboard a massive, stocked party bus to head around town and to the corporate event, they'll surely be thrilled. This is the kind of message you'll want to send to make happy employees even happier.
Party Safely
Chances are good that there will be some cocktails at your corporate event. After all, the employees have earned an opportunity to kick back and let off some steam on the company's dime. That being said, it's important to make sure that everyone gets home safely once the night is over. By booking a Metro Detroit party bus or limo, you are making sure your guests are driven home safe and sound. Party buses and limos are able to drop people right at their front door if necessary, so you won't have to worry about anyone driving themselves should they have anything to drink that evening.
Book a Metro Detroit Limo for Corporate Events
If you would like to book a Metro Detroit limo or party bus for your summer corporate event, don't hesitate to call Rochester Limousine. We would be happy to help out in any way we can. Call today!
248.289.6665