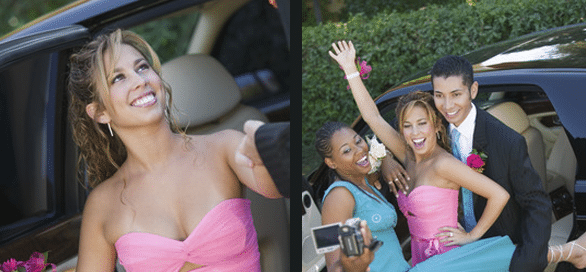 5 Tips on How to Book a Prom Limousine in Troy, MI
Why drive your parents' mini van when you can roll up to prom in a glamourous limo or Party Bus? Rochester Limousine has prom limousines and party buses available that will make your evening out on the town much more fabulous. If it's your very first time using a limo service , you should definitely take a look at our tips on how to book a prom limousine in Troy, MI.
Vehicles and Passengers
Before deciding on your prom limo, it is important to know just how many individuals will be in your group. We have cars that can fit anywhere from 4 passengers up to 32 passengers. When you know the total number of passengers you might have, you might need to look at your budget allowed. If you are trying to save a little money, you are better off booking a larger prom  limo and sharing the expense among passengers.
Examine the Prom Limousine
Check out the prom limo in person. You may be thinking that once you have seen a limousine you've seen them all but this isn't really true! You need to look at the condition of the exact limousine you will be riding in and also the total miles put on the car. You should also take a look at the cleanliness of the limo interior. At Rochester Limousine, we welcome you to stop by and check out our fleet of limos in our 10,000 sq . ft ., indoor, heated showroom.
Make your  Limousine Reservation as Quick as Possible
With spring season around the corner, we're approaching a rather busy time for limousine rentals. Not only are there prom limousine rentals, but there's also wedding ceremonies. With warmer weather comes sporting events, outdoor shows and simply more events all together. During the Spring, a Troy limo company may have their whole entire fleet scheduled! Because of this it is crucial to plan ahead and reserve your prom limo months in advance.
Read the Terms And Conditions
Make sure that you get all the details on paper and look over your contract carefully. The contract should cover all of the following information:
Pick-up and delivery schedules for passengers
Year, make, and model of the car
Total cost of the limo
First deposit required
Cancellation policy and charges
At Rochester Limousine, our transportation specialists are available by phone 24-7 to answer any questions you might have with your contract.
Call and Verify
At least fourteen days leading up to your prom contact our reservation specialists to make certain we have collected every one of the valuable details about your night out. Rochester Limousine will also contact you closer to  prom night to verify your itinerary.
5 Tips on How to Book a Prom Limousine in Troy, MI
Rochester Limousine LLC offers a variety of Prom limousines in Troy, featuring party buses, Lincoln stretches, SUV limousines, Hummers and luxury chauffeured sedans. Be sure to book your prom limousine in advance as we are approaching prom and wedding season! Call Rochester Limousine at: 248.289.6665.
To Book a Prom Limousine in Troy, MI, Call: 248.289.6665